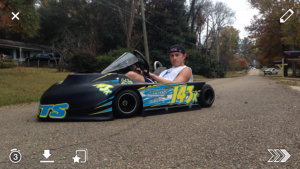 We spent part of our Thanksgiving Holiday weekend at the Indoor Karting Championship, at the Civic Center in Batesville, MS. GoKart racers from miles around converged on the site for an exciting weekend of racing. We were told there were over 700 racers there this past weekend, all vying for the title.
My son, Cody, has been a fan since he was a little boy and just really began to take his interest to a new level within the past several years. He enjoys the competition and has had some success over the years as well. However, with a full class schedule at Mississippi State University and holding down a part-time job during the summer, he is not able to race as often as he would like.
The indoor series is the stomping ground of future NASCAR drivers. These kiddos, mostly young boys, (but there were a few pink karts driven by some savvy young girls in the mix as well) all get their feet wet on the dirt tracks of their local sanctioned races and then try to win big at the nationals.
In order to win, you have to qualify first. Kart racers are broken down into weight classes, similar to boxing (light, welter, heavy). Each class is then broken down into manageable groups of racers on the track for safety.
Each driver is given a transponder, which is used in motorsports for lap timing purposes. A cable loop is dug into the race circuit near to the start/finish line. Each kart has an active transponder with a unique id code. During qualifying rounds, when the racing kart passes the start/finish line, the lap time is recorded and determines those eligible to race for the championship. Only the top 24 in each class advance or "qualify" to race for the title.
Each class is given a couple of practice rounds to get the feel for the track. Just like NASCAR drivers, these kids use their downtime between practice and qualifying rounds, to work on the setup of their karts, hoping to fix problems or make adjustments that will give them more speed on the track and an edge over the competition. My husband Lee, is a former motorcross and powerboat racer, so he and Cody share a love for speed and bond well in this arena. Cody listens intently to the advice from his Dad. He may not always take it, but it is a great platform for Father/Son interaction.
After the first practice round, Cody was told by the officials that his kart was underweight for his class by about 4 pounds. Yet during the down time between practice and qualifying, Cody failed to add weights to his cart, which can be done easily by bolting additional weights to the body of the kart. He was more concerned with the setup and spent his downtime making other adjustments. As a result, he not only didn't qualify for the race but he was disqualified due to the weight issue. It was very disappointing for Cody and a tough lesson learned.
Life is like that. Do you ever find yourself working so hard for something, only to be disqualified in the smallest of details? We can spend all of our days on earth, busying ourselves and focusing on the things that in the end don't matter and won't qualify us for the race ahead either.
Luckily for believers, Christ has already run the race of life for us. He has gone before us to make our crooked places straight. We don't need a transponder to keep track of how fast we are going. All we need in the qualifying round is a heart that believes in the Lord. Our Faith alone will propel us to the Finish Line. The bible tells us that Christ Jesus will return in the twinkling of an eye, for those who believe in Him. Now that's what I call Fast! See you at the Finish Line!